Multi-bottle wine dispensing
These handsome Wine preserving and dispensing systems are economical in size and cost yet have all the professional functions you need to create or add to a high quality by-the-glass wine program.
Compact modular design is easily expanded or adapted to any front or back bar.   These are the most economical wine dispensing and preservation systems available.   Made in the U.S.A, 30 years of refinement.
Can be configured to use our small disposable nitrogen cylinders OR with the addition of a dual stage regulator, your own high pressure refillable cylinder! Nitrogen, Argon or N2/C02 mix.
3 bottle Z base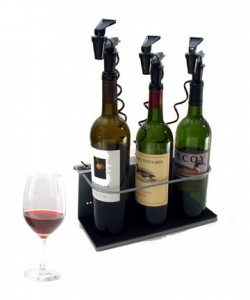 4 bottles by the glass